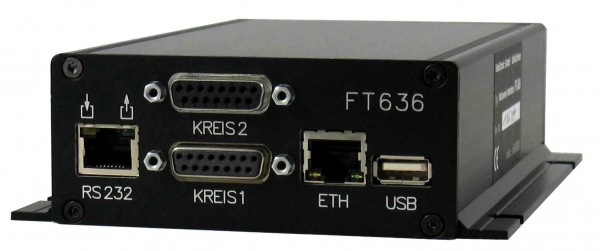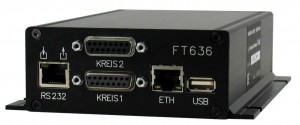 The Radio Over IP interface for the professional user.
Particularly suitable for universal use.
De FT636 IP Iinterface is ontwikkeld om een basisstation of een repeaterstation op afstand via VoIP (Voice over IP) en RoIP (Radio over IP) te kunnen bedienen, waarbij bijna eindeloze afstanden kunnen worden overbrugd. Omdat audio data en control data worden omgezet naar TCP/IP over ethernet, kan iedere local area network (LAN) of het internet worden gebruikt voor de transmissie. Hierdoor komt de noodzaak van het hebben van dure vaste (huur)lijnen te vervallen, waardoor aanzienlijke kostenbesparingen kunnen worden gerealiseerd.
Key features in brief:
Tot 2 basisstations aan te sluiten op een LAN of via internet
De FT636 IP interface is pin- en functiecompatibel met de FT634a-C/NL lijninterface
Channel switching through a 5-tone sequence
Switch on transmitter (PTT) by means of a potential-free relay contact
Benodigde bandbreedte bij 1 basisstation : min. 96 kBit/s
Benodigde bandbreedte bij 2 basisstations : min. 160 kBit/s
Bekijk de service manual voor alle aansluitmogelijkheden
Bestel informatie FT636 IP interface :
Per radiokanaal zijn 2 FT636 IP interface nodig,
geconfigureerd als set (server en clit)
Black box uitvoering (standaard):
Art. nr. 636000
19″ inch Eurocassette uitvoering:
Art. nr. 636000
Programmeerkabel FT634/FT635/FT636
Art. nr. 901998