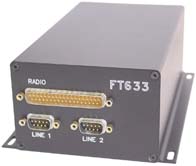 The intelligent AC line controller for the professional user.
Particularly suitable for universal use.
The intelligent and versatile FunkTronic FT635-TEL/NL telephone coupler has been specially developed for the Dutch market and is equipped as standard with those options required to meet the strict Dutch technical regulations of the Telecommunications and Postal Main Directorate of the Ministry of Transport, Public Works and Water Management, and has been extensively tested by Telefication bv of Arnhem to be used trouble-free with an 'approved transmitter/receiver', and is registered under approval number NL95012615.
Key features in brief:
Connection option to connect up to 2 leased lines in 2-wire or 4-wire systems
Transmitter control using a 3300 Hz pilot tone
Suppression of pilot tone using high-quality notch filters
Adjustable line equaliser
Base station channel switching (max. 99 channels, Bin., BCD, Decimal
CTCSS encoder/decoder
Input for discriminator and channel assignment of transceiver
Tone signalling options: 5-TVO, FFSK, DTMF, CTCSS
Show systems ZVEI, EEA, and CCIR are configurable
Display telegram length is configurable
All parameters are programmable with a PC (RS232, e.g. Windows Hyperterminal)
Two line cards can be mounted in the standard housing